Smooth journey and calm crossing bring us to the land of the bog. Vibrant gorse, flowering rhododendron and spring foliage do nothing to convince us it's May. It's freezing! Still, a brisk walk along the beach from White Rocks to Portstewart and back does wonders…

I had forgotten how beautiful this Northern coastline is, and art only enhances….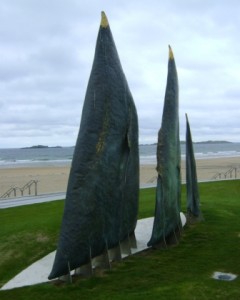 Unfortunately the artist doesn't seem to be named.
Later, we take a look at Ballymoney's tiny museum – it's an eclectic mix, ranging from Roman remains, a Celtic stone, a "tyg" (a love cup), memories of the Great War, and motorcycle leathers and helmets from the battlefield of the North West 200, which, incidentally, is on this week. This town makes much of local heroes Joey and Robert Dunlop, champion bikers, and round the corner is a small memorial garden, which is full of bikers (as was the museum) paying their respects to (I have it on good authority) a "lovely man". Oddly, the brothers both died aged 48 years old, although Joey was the elder by some years…