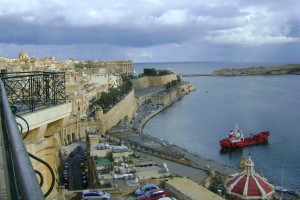 The first morning of our holiday in the sun we wake to grey skies and rain battering the hotel windows. Never mind. We're British. Stiff upper lip. Well, almost. Never did believe in stereotypes.
A friend had recommended a nature reserve to visit while we're in Malta. So off we trot, in our raincoats, to catch a bus to Ghadira Bay. The buses, by the way, are a great way to see the island. And cheap. Unlike the taxis. Except nobody tells us that you can buy a weekly ticket for a few euros or a day ticket for 2e 60. Not even the bus drivers, who happily take our 2.60 per person per journey, until we finally discover it for ourselves. Like tourist destinations all over the world, they like our money better than they like us. Shame, because overall there's a good vibe in Malta. The people are friendly and the service is great. At least, mostly.
But to return to the nature reserve. Or rather, not. Because firstly, we miss the bus stop. And secondly, the gates to the nature reserve are quite definitely closed and padlocked. To get in would be like trying to climb into Colditz – presumably on account of the islanders' propensity to shoot anything in feathers.
Instead we walk to the red tower,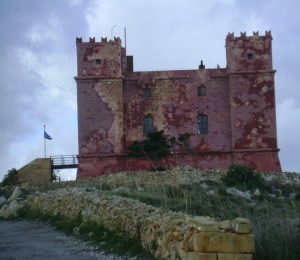 or St Agatha's Tower, perched upon a hill overlooking the coast and across to Gozo…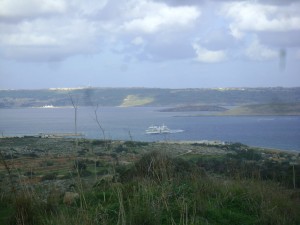 Lovely. And guess what? It's not raining.
We follow a blue waymarked walk back down into Ghadira Bay and amble along the wide sweep of sand, watching the one or two kitesurfers accelerating across the waves in the near-gail conditions… Time for coffee, we decide, and walk on past the shut up beach cafes until we find a very welcoming cafe, where, surprisingly it's warm and sheltered enough to sit out on the terrace IN THE SUN. And, even better, the cappuccino is very good.
Afterwards we make our way on foot along the coast, round rocky crags perched on the edge of these highrise conurbations so much part of the Maltese terrain, where waves tumble into the shore like young boys fighting over a football, crashing chaotically on to the field. Thank goodness for this ferocious wind, we say, for it's keeping the rain at bay.
Malta's a curious combination of old and new in centres such as Valletta…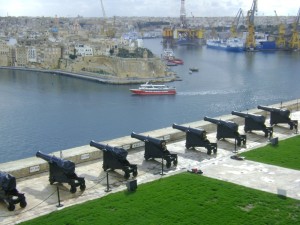 And what is this British postbox doing, right in the middle of the street…?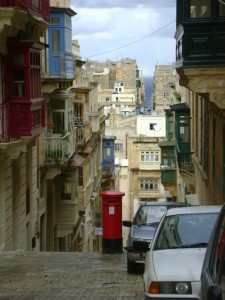 These fishermen might have more luck if they were trying to hook a car…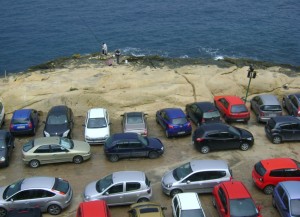 In Valletta we finally seek shelter from the rain beneath the Siege Bell…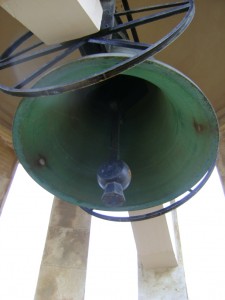 This was erected in 1992 to commemorate the George Cross, awarded to 7,000 people who died during the siege of Malta between 1940 and 1943. Equally poignant was this rather grisly bronze of the recumbent figure by Michael Sandle, also commemorating all who died in the conflict…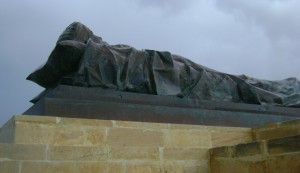 By the time we make a day to visit Medina, the sun has decided to behave itself…
…and new…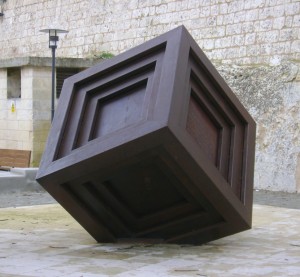 And at least one resident going about its daily business, queuing at the butcher's…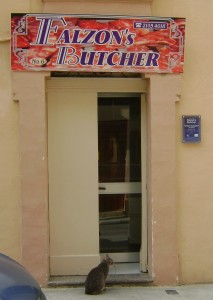 And, for us, it's time to queue at the airport, after our sometimes sunny winter sun…