Last week we decided to do a spot of walking in the Gower Peninsula. Bit of a busman's holiday, considering we live in similar terrain. However, a change is as good as a rest, as they say, and I've never been there before, so we strike out…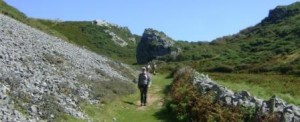 Blue skies, blue seas…what more could you want?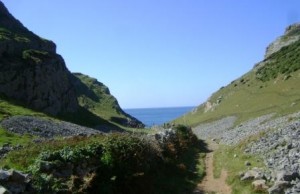 We head across the fields from Pitton Cross campsite towards Mewslade Bay, then follow the coastal path…
…along to Worm's Head…

The tide is still covering the causeway, but already a hoard of tourists (or should I be saying swarm…it seems to be the rage…) are waiting to cross over to the Head itself. It's a lovely spot, though busy here, as is the village of Rhossili itself. The view across the beach would have you thinking otherwise…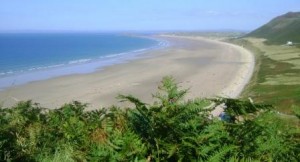 We skirt the edge of the Beacon, promising ourselves a different walk over the top for the following day, and manage a series of footpaths avoiding the road, until (miraculously…or perhaps I should bow down to the Other One's map-reading skills) we emerge opposite the campsite. Just time to spruce up and drive down to Rhossili's excellent bistro for some grub.
It's a great area for walking and, apparently, climbing, too. We saw para-gliders, as well as families enjoying an old-fashioned day out at the beach. And a fascinating place for wild life. You can see seals on the peninsula, whilst the area is only a few miles from Swansea if you fancy a gasp of city life.
Sadly, the weather isn't to be relied upon. After our long day we fall exhausted into our tent, only to awake in the night to the happy patter of rain. Moody blue clouds greet us in the morning and, ever the optimist, I inform the Other One it's on the point of clearing. Which shows how wrong an optimist can be. With the energy of Whirling Dervishes the rain drops spin and fly into our ancient tent, pooling upon our pillows and soaking into our duvet.
Undeterred and thinking the weather might dry up, we set off for Broughton Bay, purportedly one of the wildest parts of the Gower (a couple of large caravan parks have been slung across the dunes). We take a soaking along the beach, during which time we only spot one other person, before returning to the sanctity of our little metal box on wheels.
We return to camp, inspect the lake inside the tent. I would cry "Abandon Ship!" had the metaphor been appropriate, but a sinking ship is probably a drier option. We pack the car, abandon the tattered remains of canvas in a skip, and, with the forecast of rain for the remaining days, head for the motorway.
Not, however, without the sobering thought that I, unlike those refugees in Calais and elsewhere, have an option to return to a dry bed and a washing machine.