You know when you've been meaning for ages to visit a place you've heard about but just haven't got round to it? Well, this is where I went the other week…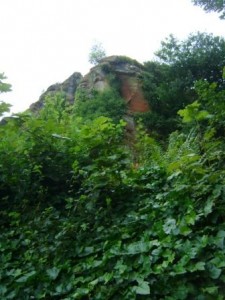 Not look very enthralling? In actual fact, it's a fascinating little patch of history in the Black Country called Kinver Edge. A red sandstone ridge into which are built some rock houses (now controlled by the National Trust).
Originally an Iron Age hill fort, people began to inhabit the carved out rock houses further down the hill from, it's thought, between 600 and 700 A.D.
As the years went on, they were, like everything else, "modernised"….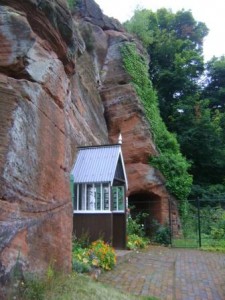 How's that for a natty little front door?
And inside, quite the Des Res…stairs an' everything…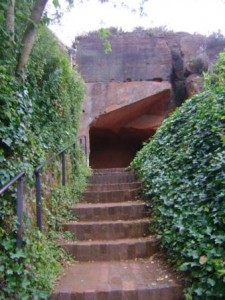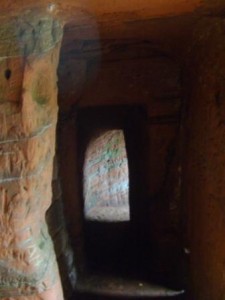 Actually, if you go along yourself, you'll see that at one stage these "houses" were kitted out with beds and tables and stoves. It was possible to keep perfectly warm in winter, especially as the average temperature of the caves only varies between 12 and 14 degrees. Outside were kitchen gardens, and the inhabitants kept pigs and chickens, for a self-sufficient life-style. Only trouble was, there was no running water or sanitation and the powers that be decided that the houses were no longer habitable by the 1950's, so the last of the residents finally moved out.
Thought be the inspiration for Tolkein's hobbit's residence, there are lots of opportunities for the imagination to run riot here, and if you grow tired of standing in a fusty cave, there are miles of woodland in which to walk and views in all directions from the top. For us, it was well worth a diversion from the M6!