Dedication
To my parents, without whom none of this would have happened (if you see what I mean). And thank you to Terry for being so unfailingly…Terry.
Purple Intro:
Ageing hippies, travellers, gypsies, pikies, grey nomads, wrinklies, all terms used to gently mock us as we set off to do the "grey trail". What is it about people that when they reach a certain age, having spent years of hard labour building up a nice comfortable home, they decide to abandon all and hit the road, prey to rain, wind, sunburn, bandits, rip-off-I've-seen you-coming-businesses, mediocre red wine and diarrohea, in order to "see the world"?
Perhaps they have too much money and this seems a reasonable way to fritter it away. We certainly didn't have too much money. Or are they searching for answers to questions, or simply, excuse the cliché, because "it ain't a dress rehearsal"? There are still so many places to see and they sure as hell won't be passing this way again. (Sure as hell? Think we're tapping into another debate here.) Maybe it's in order to tick off a few places, get-the-t-shirt mentality. But then, Terry and I never could keep up with the Jones. Perhaps we were panicking at the fast-fading memory of a lost youth – after all, see all these young people doing gap-years, sabbaticals, job-hopping, camp this that and the other, surely we've gone wrong somewhere and we should be doing it too? Except, Terry and I did it when we were young too. So is there something deeper going on here?
I think we chose to do it because it was POSSIBLE, and yes, we were tired of excruciating jobs, and we did want to see a few more places before we became bed-bound.
Bye Bye England!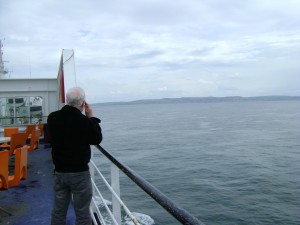 So having decided to do the TT (Travel Thing) – we decided to set out, knowing we ought to be asking questions but scarcely knowing what the questions were, although they were fast becoming apparent – like, how the f— to finance it? The W word had already raised its ugly head. Yes, we would have to Work. So for six months, dust, dirty caravans, mucky toilets, steep hills, aching limbs, and tired and grumpy customers arriving at reception after driving ridiculous numbers of miles, became our world. Long hours were interspersed by short moments of bliss snatched at le Petit Cabanon, Bagnols en Foret (excellent coffee !) or the delights of Seillans, plus a few pleasant conversations with customers who actually seemed to have come on holiday to enjoy themselves and were cheerful – amazing!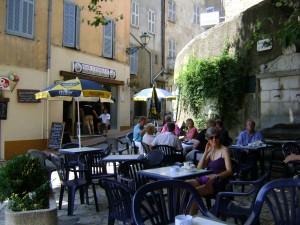 That chunk of W out of the way, questions were still zapping about in the universe, wing dinging past our ears and we didn't even know it… our only answer was to travel, travel, travel…
30/9/10 Giovanni   
Freed from the shackles of the summer season's jobs, our first port of call is a beautiful village called Fontan where our friends Neil and Maria are living. Situated in the Alpes-Maritimes close to the Italian border we spend a few days dipping in and out of the Italian Liggori, which is not yoghurt, runny cheese, wine or olive oil but Italian mountains clad with olive trees, white and green oak, Mediterranean pine, and bristling with thyme, marjoram and fennel and numerous other wonderful flora.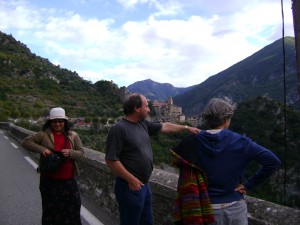 We meet Giovanni in the back streets of Olivetta san Michele, a small village where in the gardens, ripening kiwi fruit hang from a vine heavy as light bulbs from bunting at a French village fete. He approaches, speaking to us in Italian, then French heavily laden with an Italian accent and interspersed with Italian. He's from Sardinia, it turns out.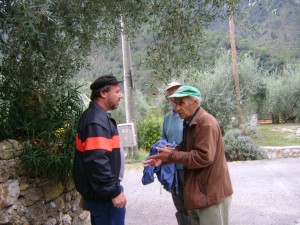 "Do you want to buy a house?" he asks us, seconds into the conversation. " I know of a house. Very beautiful! Restored. Only a kilometre from here. It's not my house, but I can fetch the keys and show you round if you like…"
We decline. We tell him we have no money.  "Very well," he says. "Ciao!" And shakes each of us by the hand.
But he hasn't finished.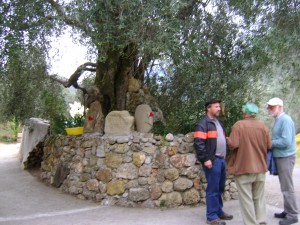 "Look at this olive tree," he says. "It's one thousand years old. I want to show you something."
He walks to the front where there is a shrine.
"In honour of all the hard work by the olive farmers," he says. We nod our heads reverentially.
"But come," he proceeds, and heads round the other side. "You see this wall built around the roots?" And he points to the top of the archway of the hollow trunk. "Before this wall was built, this is where lovers used to lie, beneath this old tree…"
And here his French seemed to desert him and he resorted to a graphic thrusting of his hips and a huge grin. And the more we appeared amused by his story, the happier he was to thrust his hips, just in case we didn't understand his meaning.
He shook our hands once more and kissed us women, paying particular attention to the beautiful Maria. And with that, he continued on his way…
1/10/10 Beautiful Hat
We head once more across the Italian border and wander the mediaeval labrynth that is Dolce Aqua, a favourite, apparently, of Monet's, particularly the bridge.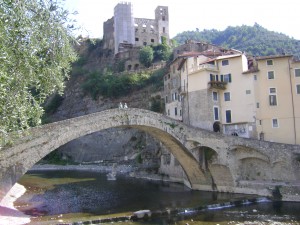 During this time I develop a slightly unhealthy obsession with steps…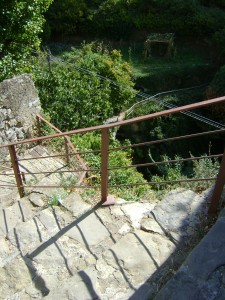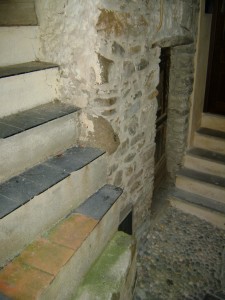 I think the cause may be my legs rebelling…perhaps I need therapy…
We indulge in some well-earned Aperitivos in the Piazza Garibaldi. Rich red vermouth mixed with gin and bitters clinking with ice cubes, sipped beneath the Italian sun – seldom has anything tasted so good…
After lunch we drive on to Castel Vittorio and park just beneath the village entrance. A rather surly looking man strides towards us. He is in his sixties, slightly bow-legged, a moustache balancing on his upper lip. He comes to a halt in front of us, and stands square on, eyeing us curiously– do we look like Martians? He a takes a step towards Maria.
"Beautiful hat," he states, in Italian.
We all agree.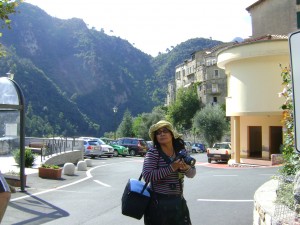 More mediaeval streets, more cobbles, leaning houses, sagging archways and…steps….
2/10/10   Le  téléphone qui sonne, sonne…
The next day we pack up and leave Fontan in hazy sunshine, heading for the 1000 metre high Col de Braus, the hillside still flourishing with pale blue thistle flowers and ultramarine buds whose name I don't know, along with ripe blackberries, and a female deer who saunters away from us, turning to assess the danger of such visitors. We are just contemplating lunch when Terry's phone rings. We have left our walking boots behind. Quel horreur! To go a whole winter without our boots…Neil comes to the rescue and delivers them, stopping off for coffee at the summit cafe, served to us by a cheery waitress, whose delivery of our drinks is interrupted by the loud ringing of her house phone.
"Le  téléphone qui sonne, sonne…" she sings cheerfully, going off to answer it. Yes, le téléphone qui sonne…
We head on down the mountains towards the sea – how's your vertigo, Terry?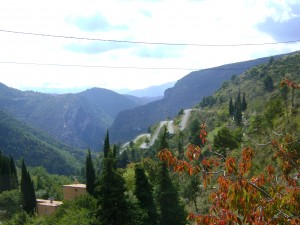 See all those hairpin bends? We're about to drive down them!
3/10/10 Rhubarb Tea
We stop at a pleasant little site at Beau Recueil and in the morning visit  a rather scabby but cool dog in Aix-en-Provence.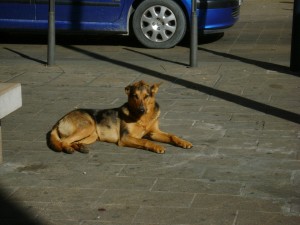 There's a market going on, full of interesting stalls as well as the usual tat,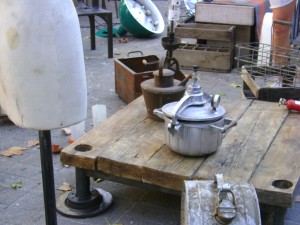 and people bustling to find a bargain –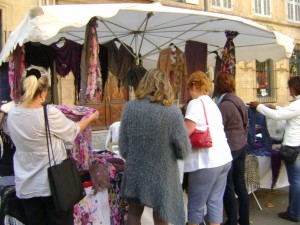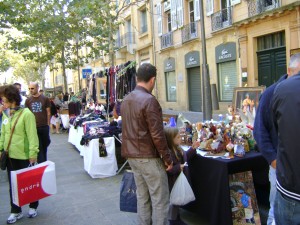 – as well as a fair share of stall holders fed up with camera-happy tourists taking shots of them. I wonder who that could be?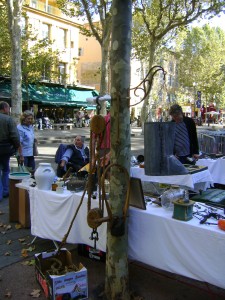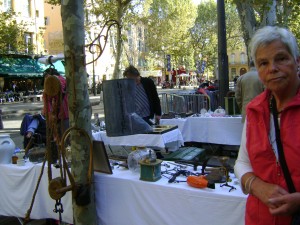 There are stalls brimming with herbs and spices, rhubarb tea, mushrooms, colourful hats, coats, dresses, handbags, jewellery, book stalls – including a biography of Elton John and the translated (into French) poems of Charles Bukowski, and of course, the ubiquitous books on one Paul Cezanne. After all, we are in Cezanne country, and don't the tourist board want to milk it! We walk up Cezanne Street, pass the Paul hotel and head for where Cezanne had his workshop. It must have been a wonderful location once. Now everywhere is built up and spoiled… Still, we know where we can buy rhubarb tea…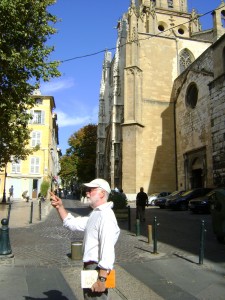 4/10/10 Gollum
We stay the night in a sleepy place called Le Mamert and head on down to Meze. Nothing much happening here either. There's a boy sitting on the harbour wall plugged into his headphones and a few masts jingling in the wind, and the water from the Bassin de Thau is doing a lively little number on the shoreline, making a sound like beating pancake mixture (the old-fashioned way, of course – with a wooden spoon in a china bowl, but you didn't really need to know that, did you?). Other than that there's no-one about, and we motor on up to St Pons, which really knows how to rock…well, perhaps not…but it's very beautiful…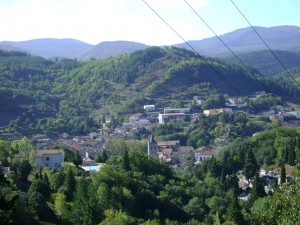 …and they do a damned fine line in mountain springs: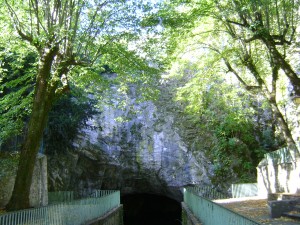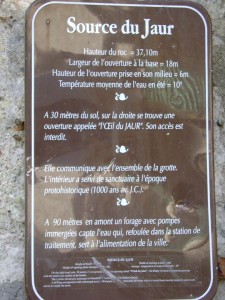 Is this where Gollum lives? The water from the thermal spring is reckoned to be around 10◦.
Our van finds a nice little place for the night in a quiet and leafy square…(thank you, van)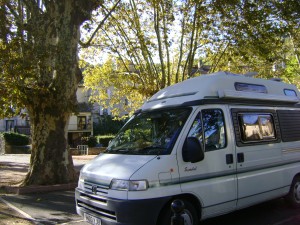 …except during the night when something noisy happens to the weather, and we get shaken by great gusts of wind which seem to build up in waves to a towering tsunami of sound, causing our roof to be bombarded by twigs from the trees above.
We wake up to soft light and birdsong. Was it all a dream?
A stunning walk in the hills, collecting ripe chestnuts (sorry, squirrels) and we set off for our next camp in a park in Castres, which is a bit like camping in the middle of a football stadium, so surrounded are we by floodlights. We take the bikes off the rack and cycle into town, but we're too late for the Goya museum and have to make do with the Verveine Gardens (reminiscent of Versailles) and a black frappé. What is there to whip in a black coffee? Yet it tastes surprisingly good…
6/10/10      Socks.
A quick detour to catch up with my sister. Oh, by the way, she doesn't live in this house…she is very civilised and has a washing machine into which crawl our copious amounts of crusty socks to become little civilised socks again, just like children back to class after they've let off steam in the playground…OK, the simile is going nowhere, but you get my drift…
8/10/10 A drop in the ocean…or at least, not where it's supposed to be….
Saying farewell to our gracious and wonderful washing machine…hem..hosts, we head towards "them thar hills" via Puylaurens, Revel and Castelnaudry, at which juncture, Terry remembers that he has left his all-important eye-drops in my sister's fridge (how outlandish, a fridge as well as a washing machine…). We seem to be high achievers in the realm of leaving things behind. Perhaps we could aim for at least an NVQ level II.  Several blue words later we find a chemist in Limoux (OK, a lot of blue words later… it's 40 kilometres between Castelnaudry and Limoux) and manage to buy some drops, and Terry's eyes are all twinkly again. We arrive at Alet-les-Bains which has a fab campsite, a huge ruin of a cathedral, a gambling casino, a hot spring and a baker's. So I reckon it would be ideal for a bishop who likes the outdoor life, nude bathing and has a propensity for the horses.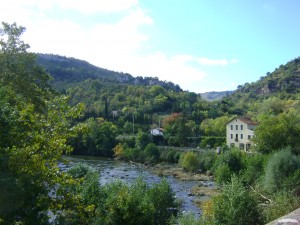 It's very beautiful.
9/10/10 Hidden Treasure
We drive from Alet to Rennes-le-Chateau, the source of the Da Vinci code yarn. It's full of coach parties being very mysterious and seeing layers of meaning in everything. Seriously though, the place has a fascinating history, and is full of contradiction; religion and greed, as ever, intertwined. Is the line of poplars planted below the hillside a clue leading to hidden treasure? War-time Nazis had dug over the fields, just as others had before them in search of it. A painting in the parlour created by Father Bérenger Saunière (the rich dude responsible for all the hoo-ha, who died before the fraud court case against him had reached its conclusion) evinces a young country girl talking with friends. In the shape of her "cul" (oh, how the French love their bums…) is hidden the devil's face. Appropriate for a man of the cloth's parlour, I wonder? In the same grounds as Saunière's tomb is the tomb of the man trying to bring him down. I wonder if worms take sides.
And just to cap it all, Saunière's Christian housekeeper would not allow the fire brigade to use water supplies  from the garden to fight a fire in the village. Did I say Christian?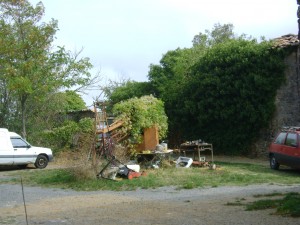 I wonder if this is the treasure…?
Or does it lie in the church itself…?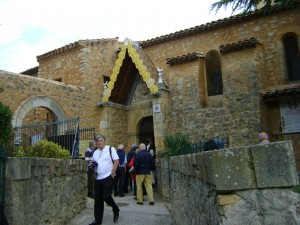 Actually, I reckon the treasure has already been found – Dan Brown and Hollywood have most of it, and judging by the number of visitors, I would say the local parish hasn't done a bad job of raking it in either!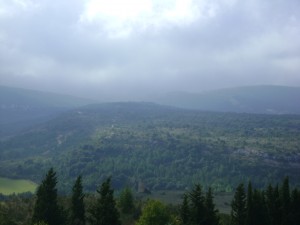 View from the top: there's a Cathar ruin somewhere down there, honest! But more to the point, notice the rain clouds gathering…
We head down to Quillan for the night – it mostly has a deserted feel, as if all the tourists have gone home and there's nothing much left. However, there is a lively boules match in the square…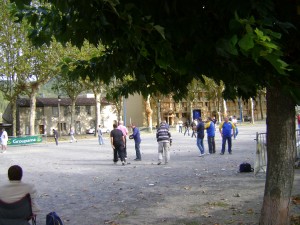 But where are all the women? I hope they're not cooking their tea…
10/10/10 Tenth of the tenth o ten.  (Is this the Lake District?)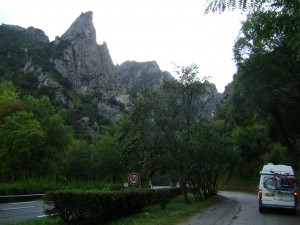 I should have known that a date like that didn't bode well. Remember the gathering storm clouds? We abort our attempt to visit more Cathar sites and head away from the mountains with their amazing rock formations, torrential rain and huge growling clouds peeling down from the peaks. We decide to head for the coast, Collioure, Port Vendres, Banyuls-sur-Mer… but none of them are any drier. We sit in the van and eat our lunch watching streams pouring down the windows… Is this the Mediterranean or North Wales? Terry reckons we have tele-ported to the Lake District, although I think the North Coast of Devon more likely judging by the size of the waves crashing onto the beaches. We venture into a café which is full of steaming visitors – in more ways than one; it's the end of the wine festival. We return to our van. Guess what? It's still raining…
11/10/10  Wet, wet, wet…
We decide to head for Spain – it's still raining, but that coast road down from Banyuls towards Figueras is beautiful – and very dramatic with its brooding cloud and high seas thundering on to the beaches. We arrive in Figueras and head for the Dali Museum.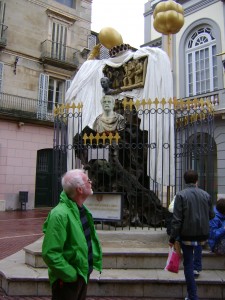 The space,  breadth and depth of that man's imagination, not to mention talent, combine to make a fantastic visit.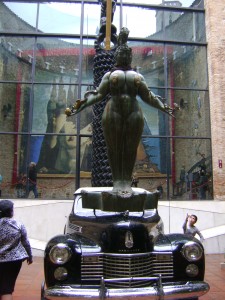 I am particularly taken with the man sitting inside this car, who has snails and fake ivy growing up him to match the real ivy on the walls of the courtyard…
We head for somewhere to sleep for the night, find a half-submerged campsite (yes, they've had all the rain, too) with waves where the beach is usually situated. But it's a good site and does us proud for an overnight stay before setting off for Barcelona in the morning. There are prostitutes scattered along the N11 like scattered but rather jaded pearls, sparking off a sociological monologue on my part with regard to the morality of the oldest trade in the book. Terry is the hapless receiver of these wisdoms, my captive audience (he's driving). Luckily for him it's not long before we arrive at El Masnou – a pleasant but rather expensive campsite within a train's ride of Barcelona centre. Yes, fantastic! It's almost stopped raining!
13/10/10 Barcelona…
No point in telling anyone who's been what an amazing place Barcelona is. So much to see, and after a day or so, we even persuade the sun to shine…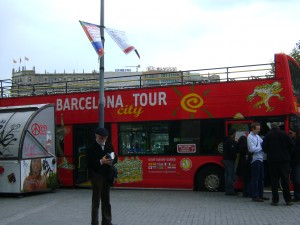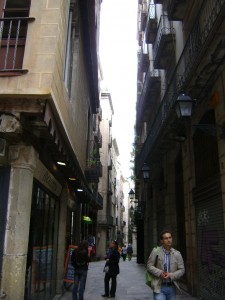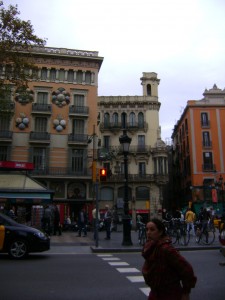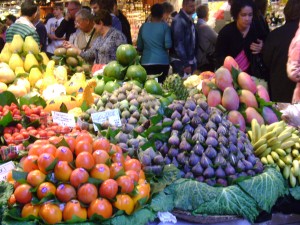 We buy an Art Ticket and try to get round as many of the galleries as we can in the time, trying not to be confused by their various abbreviations (the MNAC, the MACBA, theCCCB…reminiscent of working for the county council…).
I find a new friend in the Miro Museum…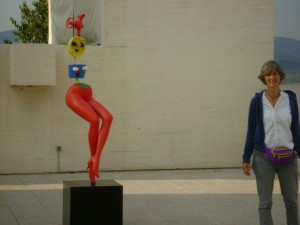 The result is aching legs and a brain feeling like it has gorged itself…
We walk down the Rambla:
 breakfast on the top floor of El Corte Ingles: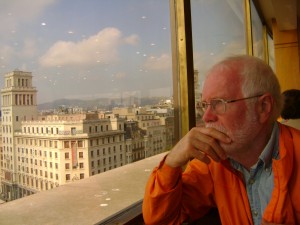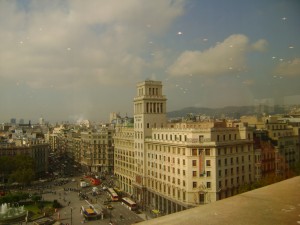 see Gaudi's Sagrada Familia and Parc Guell, and so much more…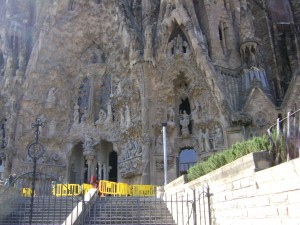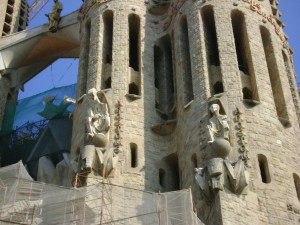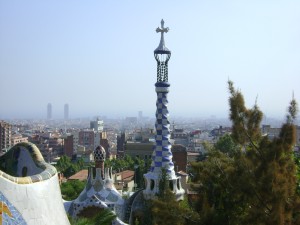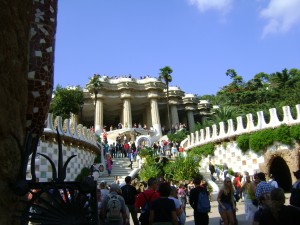 Plus we still have time for some people watching…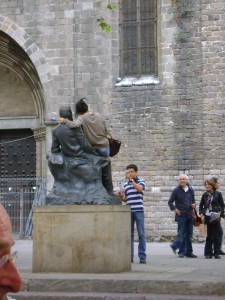 What is it about people wanting their photo taken cuddling this gentleman? (I think he rather enjoys it)
To ensure we have the full experience, we nearly get pickpocketed twice, but fortunately we have been warned…Barcelona is full of beggars and thieves of all descriptions. They go on the metro, follow you down the street, or simply sit on the pavement looking as needy as they can. There are also varying qualities of busker, including an opera singer outside the cathedral offering singing lessons…
It's all too much for some of us…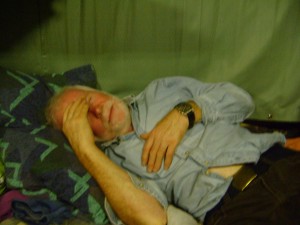 16/10/10 Retreat from the City Lights…
We leave Spain via the N11, the border of which is jam-packed with people shopping and vehicles honking their horns at each other, and a few smiley policeman…let's get out of this mayhem! We drive on to Ceret, west of Perpignan. Oh no, surely not more art galleries and arty shops? Oh yes…Picasso spent some time here and the the town lays claim to the development of his cubist period.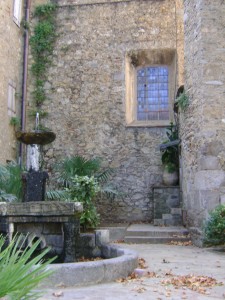 It's a fabulous town (with a slightly less than fabulous camping municipal, but it does…) and the Museum of Modern Art is well worth a visit. Included are pictures by Picasso (of course), Matisse, Manolo and Soutine. (Whoops, I can feel that F word coming on again…) Fantastic! Perhaps we can have a non-arty day tomorrow instead…
17/10/10 Teeth cleaning.
We are up so late that it is lunchtime by the time I clean my teeth after breakfast, if you see what I mean. If we keep going at this rate, we won't need to do anything at all all day, and I could go to bed after breakfast, obviating the need to clean my teeth twice daily, therefore saving time and effort…
However, instead we explore Palalda, the Mediaeval village next to Amelie-les-Bains (described by the Rough Guide as "rather stodgy"), which one Charles Rennie Mackintosh once had a yen to paint…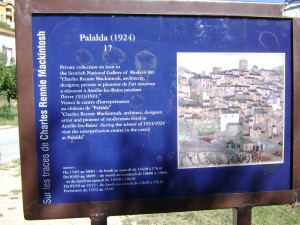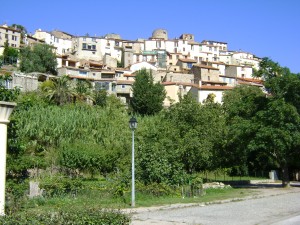 However, Palalda makes an interesting visit with its lovely views and windy streets (windy: read bendy and weather – there is the bitterest of winds blowing through, though the sky is purest azure). It also does a fine line in doors: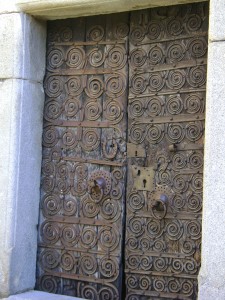 Afterwards we head into said stodgy centre for a coffee out of the wind and listen to a pissed Irish woman explaining in very bad French to two sobre French women that she doesn't like the English. Having created an Anglo-Irish agreement back in 1980 in the form of marrying a certain Irishman, I feel a distinct allergic reaction to this conversation, and we leave the cafe pronto…
18/10/10 Haven of Spirituality
We set out with the intention of taking our sackfuls of dirty washing to a laundrette, buying a dongle and camping at a place called Bizanet. We end up doing none of these things but meander through the French countryside and end up back at our nice little site at Alet-les-Bains.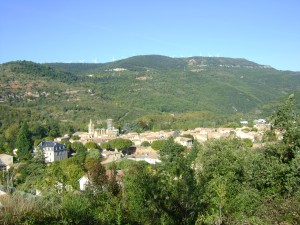 It's bitterly cold and we seek refuge in the heated toilet block, and use the site washing machine in the morning, which, luckily, is very forgiving!
We hole up here for a couple of weeks so that we can get ourselves organised and Terry can fly back to England from Carcassonne for a few days.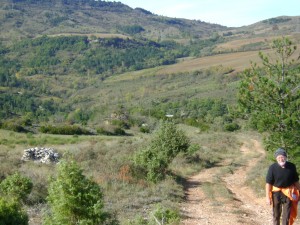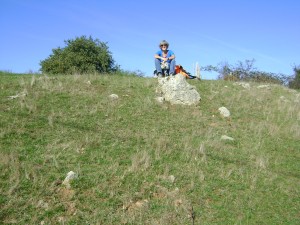 We do some fantastic (whoops, that word again!) walks and also eat a reasonable meal at the Hotel de l'Evêqué, an austere building reminiscent of "A Room with a View" or a monk's refectory, but made pleasant by pictures and a huge varnished olive root, not to mention two large radiators next to which the waitress is pleased to seat us. She is a fitting ambassador for such a solid eatery; smart, conventional and polite with a slightly dated look, and an impeccable waitress. There are only five tables occupied tonight, one of which includes an English/American party of four who obviously do not know each other well. It is fascinating overhearing a dinner party conversation where everyone is trying to stay on neutral ground and remain desperately polite and not poke their noses into other people's affairs – which of course wasn't at all what we were doing…
During our walks we manage to gather a few chestnuts – they are delicious lightly boiled and peeled, then tossed in butter, even though we don't have the facility to roast them.
The experience of a café au lait in the local boulangerie cum alimentation générale cum café, cum, I suspect, gossip shop, is less of a culinary delight. The proprietor has decked the back of her tiny shop with little tables with primrose napkins, plastic posies and candles, with a strong smell of incense which is not altogether pleasant or conducive to coffee drinking. She is proud of her efforts, but says that the trouble is, no-one knows about the café, in her view, a little haven of spirituality… For our coffee she brings two mugs, two sachets of instant coffee and a jug of tepid UHT milk with sugar on the table if we require it. We make our coffee, drink it out of politeness and pay. Terry and I agree that it's the worst cup of coffee we've had since we arrived in France in March – and we've had quite a few! Never mind, it was almost worth it for the experience!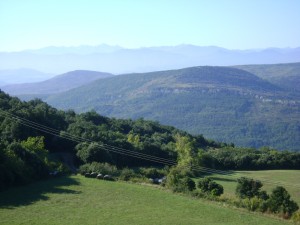 The countryside at this time of year is beautiful, full of different colours, reds, yellows, russets: whiskers of wild clematis strewn over bushes, sloes, rose-hips, still some pale blue scabious in flower, ripe orange-red fruit of the strawberry tree , oak trees shedding a scree of acorns beneath them, walnuts and bitter almonds, and huge yellow quinces scattered on the ground. There are a few black grapes on the vines, but they're mostly picked and the leaves are beginning to turn yellow…another year of hard work gone by.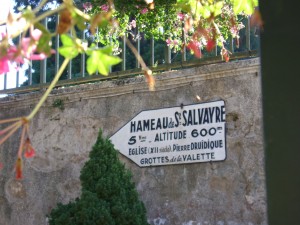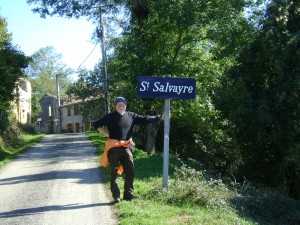 On our wanderings we make the pilgrimage five kilometres up to St Salvayre, a hamlet 600m above sea level.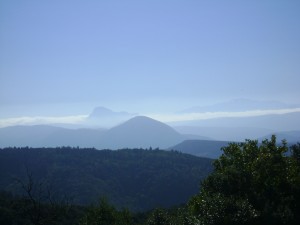 The view of the blue silhouetted mountains against the foreground of the lovely colours is truly memorable.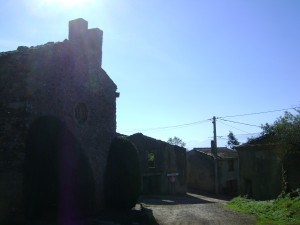 As you can imagine, there ain't a lot happening in St Salvayre. A lot of dogs bark, and not many houses appear to have roofs on them – they are mostly furnished with living trees. The church door has the key left in it, so you can unlock it yourself and look in if you wish – a pleasant reverential space…
Apparently there is an annual picnic organised by the local Mairie in which a small electronic organ is brought up from Alet and plugged into the side of the church to provide music for the picnickers in the meadow beside it!
*
For a change of scene and to attend to the needs of the van, we decide to go into Limoux centre.  As we pull into the camper van park, we find a boules game in full swing. I wind down the window and lean out.
 "Can we stay?" I ask.
"Of course," says one of the players, coming to shake my hand and say bonjour. "Go and park in the corner. It's very good here."
So Terry manouevres the van between boules and men, and we leave the van prey to the perils of the boules court…
1/11/10  A tour of France…
We leave Alet-les-Bains and the beautiful mountains around Quillan for the second time and head west along the edge of the Pyrenées towards Foix. Astonishing even in the rain (yes, rain again!) how dramatic are the height of the mountains and the mixtures of golds, auburns, deep maroons and vivid greens… We don't stop much though; it's cold and damp, so we keep on truckin', as it were, apart from l'aire des Pyrenées where they seem pretty keen on the tour de France…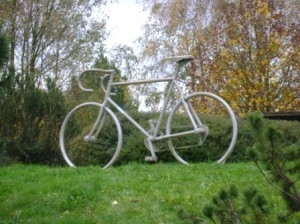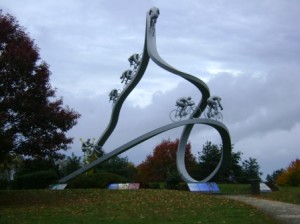 But then, when we want to stop, we can't find anywhere. The aire where we've planned to stay is full of juggernauts, and what with one thing and another, we find ourselves driving on into Spain, pulling into an aire just after a toll stop.  Noisy! At midnight I tell Terry I can't sleep and will drive on, get dressed, and only need to drive round the corner to another part of the aire (the lorry park) to find it quiet enough to sleep!
2/11/10 Little green men…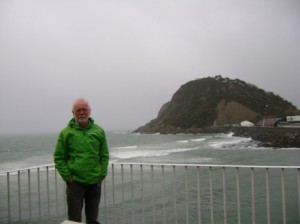 We get up with the rest of the truckers and drive to an interesting small fishing town called Getaria where the first man to sail round the world was born, one Juan Sebastian Elcano. No, that man in green isn't him…Juan Elcano was born in the fifteenth century…hold on a minute, looks as though it could be him….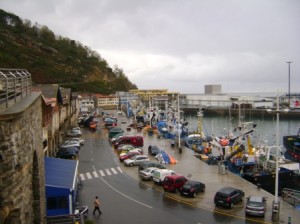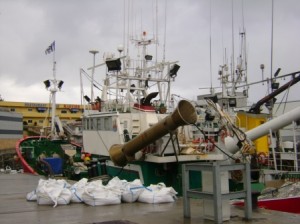 There's not a lot happening here this morning – the fishing boats have already landed their catches for the morning –  but we find a baker's with superb tasting croissants and a little shop where we can buy some butter. People are incredibly friendly, and there's even a woman waving at us from 100 yards away down the road to tell us that she will open up the locked public toilets for us. What service, or "servicios", should I say…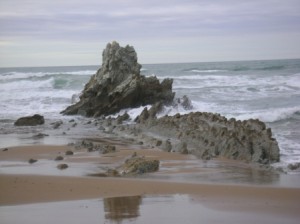 We head on to Sopelana where we stay on a rather expensive campsite, but who cares when we can visit Bilbao the next day and I can see silver waves rolling in from the Bay of Biscay over the rocks as I'm cleaning my teeth at the shower block!