It's pecan cookies for breakfast as no bread and the nearest shop is a mile away…then off to catch the Metro into Bilbao – Mayua stop for the Guggenheim, which is what we're making a bee-line for. Unlike Barcelona we don't get hassled by pickpockets, only a nice lady at the museum who charges us a reduced fee to get in as one floor has no exhibits currently.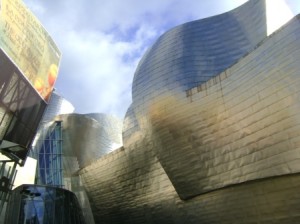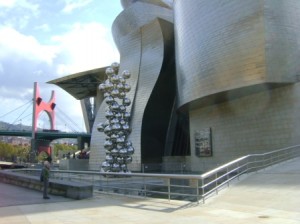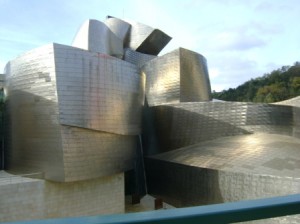 What a fantastic building, Mr Gehry! A work of art, with its titanium tiles and curvy windows. The whole concept of the ship built within a historic area of fishing villages and a port, linking with the river and the Bilbaon people really works for me.
Not sure about Jeff Koons' Puppy (I thought it was a cat), but it's popular with the locals, and it's covered in very pretty pansies.
And then inside, there's Jenny Howzer's sympathetic word art in Spanish, Basque and English and Richard Serra's huge steel installation The Matter of Time housed inside a gallery inspired by the shape of a carp. Sound mad? You should see it, and venture between these rust-coloured panels, feel how the different angles and dimensions rock your senses. Wow! Makes you realise how objects and spaces around you affect your psyche… how mountains sometimes make you feel closed in and claustrophobic and wide open spaces can make you feel freer, how buildings can depress you or lift your spirits…but we're all different…the overall message I took from there is how art speaks to people across language and culture… how it is a common unifying experience…
What the Guggenheim didn't teach me, however, was how to keep my shoes and the bottom of my jeans dry in campsite showers. Any thoughts, Mr Gehry?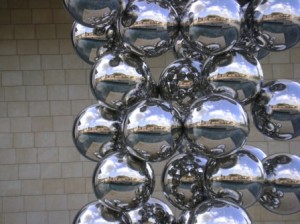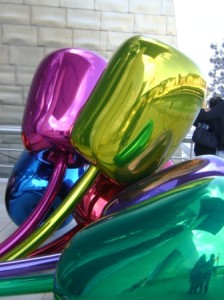 A reflective experience?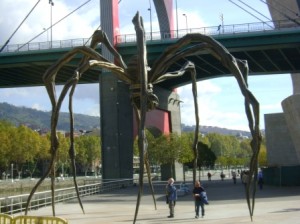 Looks like a dangerous place to stand if you ask me…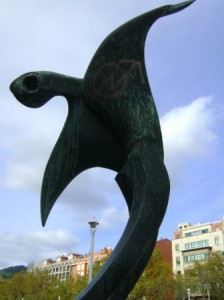 Note the political statement under the armpit. Bilbao is full of graffiti.