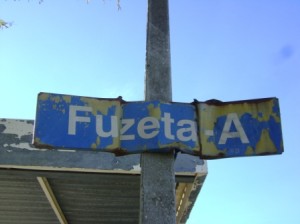 We take the train from "Fuzeta A" to Faro, the region's capital. As Terry says, we might as well be in the wild west, no slick TGV this but old grey metallic-looking carriages we have to hoick ourselves up metal steps into! However, it delivers us smoothly and cheaply and almost punctually to the required destination. We wander past the harbour…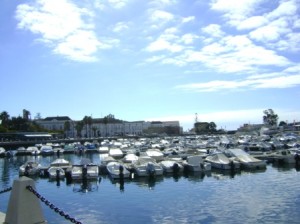 towards Faro's old town and the cathedral…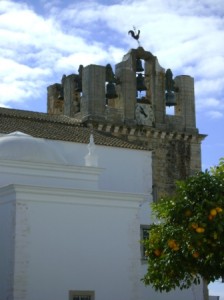 with one or two reminders of one Alfonso III who led the Christian conquest against the Moors in 1249…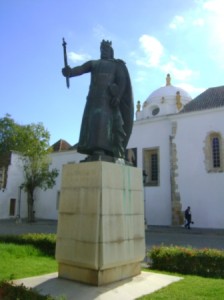 and obviously thought he could do a better job in the market place…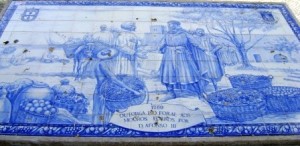 though Essex Man (Earl of Essex, that is) came along and ransacked the place in 1596.
We explore the rest of the centre – it's compact, relaxed and relatively quiet for a city centre on a Saturday.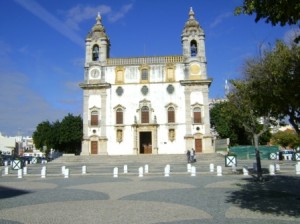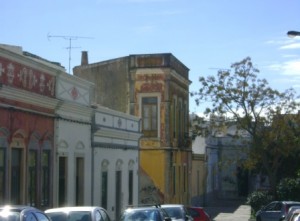 Not sure what this place would be like in the summer, but right now in the sunshine it's a delight and we find excellent coffee in a café in the Praca Ferreira de Almeida. We visit the covered market where I buy some fruit and veg – the discount I receive for my bag of shopping is a free pear – then we head back towards the harbour for a cheap and delicious lunch at the local Bella Italia. Two plates of roast pork, chips and salad, a pudding each, two tumblers of white wine and two coffees for 15 euros. I'm not complaining, and the service even came with a smile!
Later on, back in Fuzeta, we shop for tomorrow as it will be Sunday and we expect to find most places closed. At the butcher's a man gives me his ticket for the queue as I've neglected to take one, then we are distracted by the roast chestnut seller and sit and eat hot chestnuts from glossy magazine paper on a bench in the square before going to search out milk and olives. Here shopping really is a pleasant social event, not a chore amongst the aisles of a huge impersonal warehouse!