We leave behind the fertile and beautiful Tâmega valley and climb to more than 1000m tunnelling through low cloud and arriving at Vila Real, a largish town sprawling across the hillsides.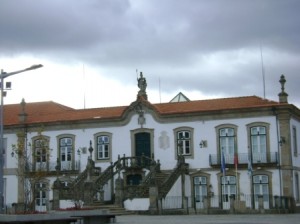 It's deserted this Sunday morning, only a handful of people walking around the old town which is perched on the edge of a gorge…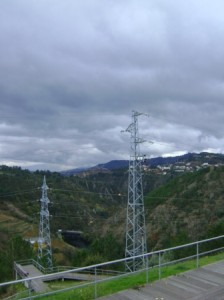 We haven't realised that we're in a different time zone here, so it's actually an hour earlier than we thought. No wonder it's so quiet!
With the weather not that great we decide to head on towards the coast and get hopelessly lost in an urban maze of narrow streets north of Porto. Eventually we pick up the campsite signs (Angerias Parc de Campismo) only to lose them again due to a roadworks diversion! After an eternity we arrive at Lavra, the campsite barrier magically rising for us, and when we enter Reception there are two smiling faces awaiting us with plenty of useful information, and, what's more, a bottle of Porto port wine as a celebration of fifty years of the campsite being open. Is it Christmas?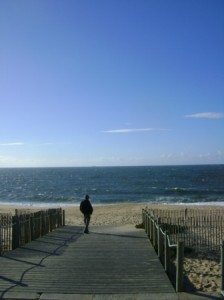 We park up, plug the van in and set off for a walk along the beach – glassy green waves rolling in contrast to the sandy shore: pot-holed roads and scruffy houses adjacent to smarter houses clad with patterned tiles. Portugal so far? We love it!