For breakfast I eat something that sounds like "scocho", with a wonderful cup of strong milky coffee, at the restaurant attached to the campsite – "scocho" is a home-baked cake, not too sweet, but really moist and delicious. Then we drive south-west, escaping the fog of the plain, into prettier country with wide open spaces, big skies and deserted motorways reminiscent of US of A road movies (American accent required here)…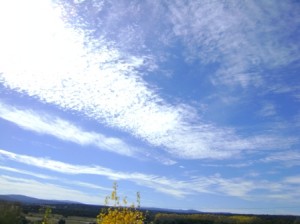 We lunch at a lorry stop with fine views, then head across the border into Portugal. Oh no, another language required here, and I was just getting used to Spanish! We end up in a lovely little campsite in Vila Nova. Chaves and its surroundings (including Vila Nova) has a lovely feel to it – rural and unhurried – of course, the sunshine gives it a rosy glow. We speak to the campsite official in French; his English is only marginally better than our Portuguese! And the campsite toilets have a most poetic sign: water is a precious well. I've a feeling this is a sort of error in translation as the French and Portuguese indicate water being something good that is precious, but hey, the poetry works! And then I had to go and play with it….
water is a precious well
well, water is precious
precious water is well
well-water is precious
in a precious well is water
precious, precious water – well!