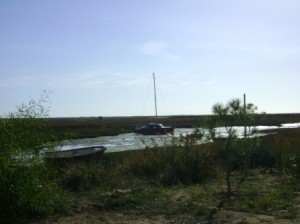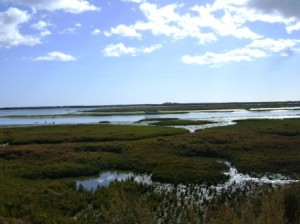 We spend the next few days sorting out the van and getting to know the area. Our bicycles really come into their own here, as the immediate locality around Fuzeta is flat, and there are miles of cycle track which take you amongst sand flats and salt pans and the most spectacular bird life – ornithologists' heaven!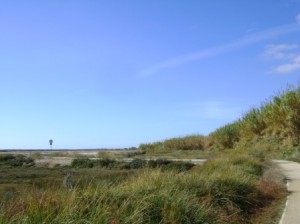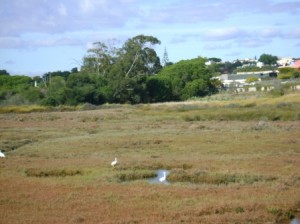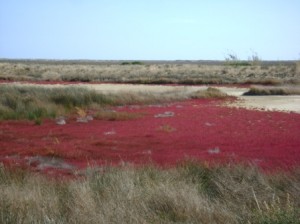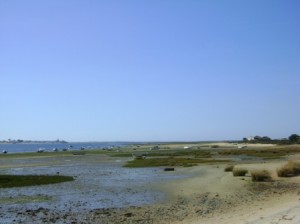 We see spoonbills, grey heron, egret, amongst others today…and what's more it's so incredibly peaceful only minutes from the town, hardly a sound, save the occasional piping of a bird, and then the tremolo of the level crossing alarm as a single train  rumbles along the coast before tranquillity again… At night there's an insect trill of something like a cicada…
The town itself has a lovely atmosphere; people are friendly and good-humoured. A waiter drops a dish of nuts he is serving to some customers and roars with laughter, an old guy walking with the aid of a stick tells me to push my bike faster as I'm trying to push it up over a bridge. There's a local covered market where you can buy fresh fish and vegetables. We buy slices of some unknown fish which we attempt to fry – big mistake! Although the taste is delicious, the texture is slightly rubbery and there's an awful lot of skin and bone. I wonder what we ate?
We cycle into the next village, where we see more interesting houses…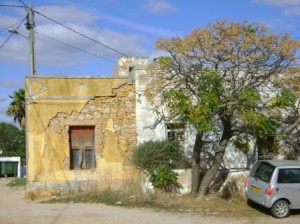 and…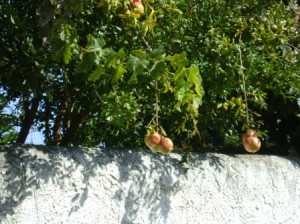 pomegranates hanging from the trees.