We're booked into a gourmet extravaganza at a restaurant with a French name (La Plage – what else?) run by a German guy who speaks excellent Portuguese and English. We tuck into freshly cooked prawns, pancake rolls, pork fillet cooked in sherry, duck with port and chocolate sauce, and, strangely, wild boor (or was it a spelling error on the menu?). Anyway, whoever he was, he tasted very good in a delicious sauce, especially with the braised chicory and "Heaven and Earth" potatoes. Cream puffs and wonderfully un-sickly little chocolate cases filled with various fillings for afters. Wine, coffee, and at midnight, champagne. What more could a gal ask for? (Or a chap, for that matter). The hammiest fireworks display we have seen in a long time…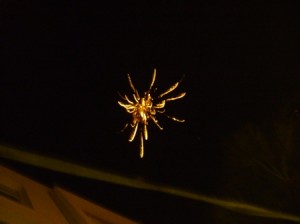 …when at one point the landlord does an unintentional head-over-heels when he's trying to light the fireworks (perhaps it was the boor trying to escape from his intestine).
But the company was excellent: everyone was really friendly and we chatted the night away until 2 a.m. when we thought we ought to let those poor restaurant staff get to bed. Fantastic!