We set off from La Zubia in the sunshine and head North-East…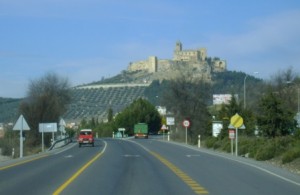 …passing acre upon acre of olive grove again…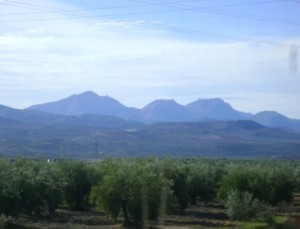 then fields of  what looks like winter wheat to flatter land covered in green oak. We stop for lunch just outside Castro del Rio where supposedly Cervantes stayed and began his novel Don Quixote. Then it's down into Cordoba – the weather's getting murky by now – and we decide to stop in a small town called Fuente Obejura in which is happening almost…Nothing. The museum is shut, at any rate – just a strange unidentifiable beast welcomes us in one of the squares…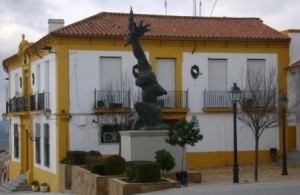 …and then suddenly there is a flurry of activity in which several Marys, Josephs, golden-crowned Kings (of varying shape and size) some tarted up tractors and trailers and a horse or two appear in the lower streets in time for a Nativity Carnival…
We head on towards Azuaga which also appears to be Shut. By this time we have managed to deduce that this is a major day of festivity in Spain… we see more small children dressed up in Nativity attire. We do however manage to scrape a cup of coffee from a friendly man in a café and a town map from a man in an art gallery who tells us the Tourist Info Office is Shut and the town campsite is also Shut.
We find a little spot on the edge of a park to spend the night, feeling a little like that more famous couple who found there was "No room at the inn"…
The following morning we are subject to a continuing case of Shutness and can't find anywhere to buy bread for breakfast, end up driving on to the next village, which is also rather Shut. However, with some dastardly powers of observation verging on those of Sherlock Holmes we trace the steps of people carrying loaves back to a single heroic baker. Breakfast at last!
Tummies full, we drive on to the city of Caceres which is also 85% Shut or being dug up and repaired, but this is another historic centre abounding with Moorish and Roman buildings…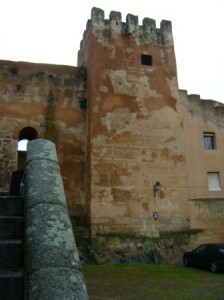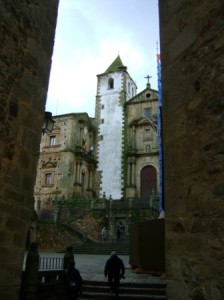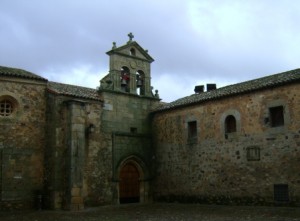 Caceres claims to have derived much of its wealth from its explorers of America. It's also the site of the WOMAD festival…
Some of the inhabitants do seem to be somewhat hard-nosed…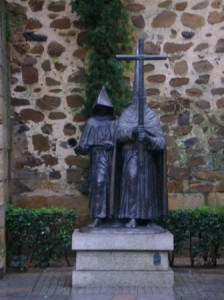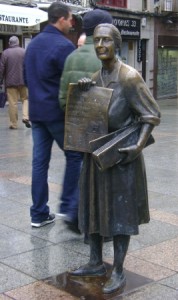 Of course the tourist information is Shut, but we manage to find a campsite north of the city which is very civilised – it's Open!