Somebody (and luckily for them, I can't remember who) once told me that the interior of Spain was mostly desert. If they were right, they define the word differently from me, as this is the interior of Spain near Plasencia…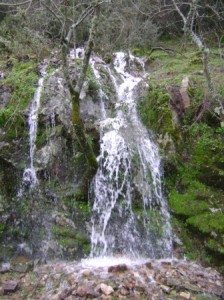 It looks as though it's been raining for months, it's so soggy, but soggily, extremely beautiful. It's the Monfragüe National Park, home of rather large numbers of birds, including Griffon Vultures, Spanish Imperial Eagles and Azure-Winged Magpies. Black storks also live here, but sensibly, not in the winter. They prefer Africa.
We spend a few days walking here. It's actually not too cold and the rain only comes in showers at the moment, so we follow some of the very well managed trails to get an in-depth view, if you get my drift…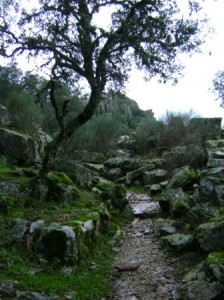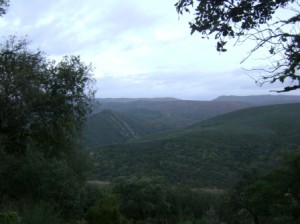 And talking of drift, Griffon Vultures high up floating on the thermals. I try to digi-capture them but my Point-and-Click can't get the range, and these birds seem somewhat camera shy – or is it that they fly so fast, that by the time I've Pointed and Clicked they're already on their next circuit of the hilltop, sniggering…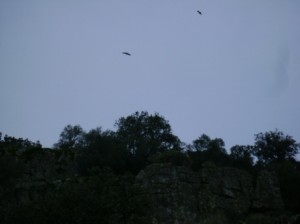 See what I mean?
We follow the Red Route up to the Castillo da Monfragüe which was originally built by the Arabs….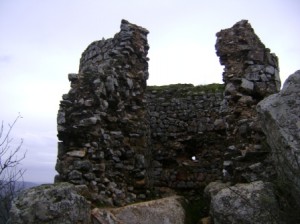 It was rebuilt by the Christians between the twelfth and fifteenth centuries. Beautiful views from the top, of course, and the habitual church…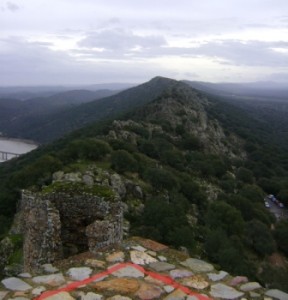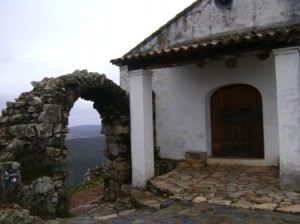 And lots of close up encounters with vultures: they are superb – some of the them fly in with their claws down, like wheels from the undercarriage of an aeroplane, not necessarily landing, just ready to grab a tasty snack if it becomes available (like going to MacDonald's really). Others are a dab hand (or feather) at dive-bombing for their prey. We saw one come in and land on an olive tree, have a little peck around and take off again with an olive branch in its beak. Peace offering or a new joist for the nest?
I've omitted to mention that the highest and best views come from the very top of the tower which is totally exposed to the drops all around it – but never mind, there's a red line marked (as in above photo) so the wind will know not to blow me beyond it… And I've also omitted that to get up the tower you have to climb some steep wet stone steps in the pitch dark with only the stone walls to hold on to. No wonder I'm looking relieved once I get there…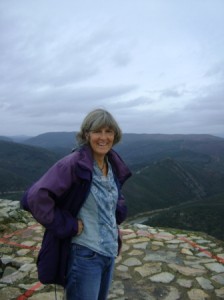 …though I've still got to get down again…