I was in London this week to take a look at the Serpentine Pavilion, amongst other things. Secreted away in this quiet-ish spot in Kensington Gardens, we spy it through a mass of summer foliage. From here, it looks like a rather elaborate Glastonbury tent…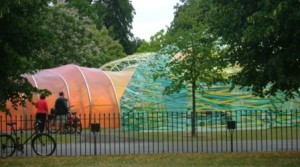 …or is it a ravenous giant caterpillar opening its jaws to swallow us up for ever?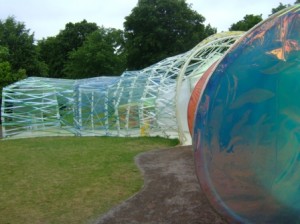 Designed by studio selgascano (founded by, yes, you guessed it, Madrid-based Selgas and Cano) this flamboyant offering celebrates the fifteenth year of pavilion "shows" – where international architects are invited to build their first structure in England, a 3-D calling card, you might say.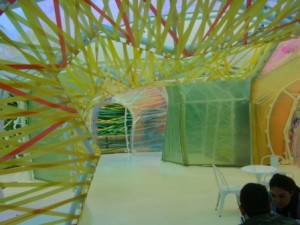 It's an elaborate café-space of translucent plastic sheets and ribbons accessed through various tunnels, echoing London's tube network and people's daily pathways…and for  a comparatively small structure it offers a myriad of different visual effects…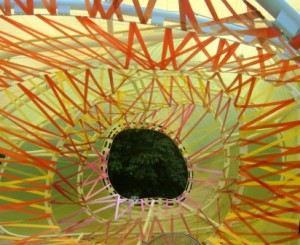 Transparency and reflection, distortion and accuracy intermingle with angle…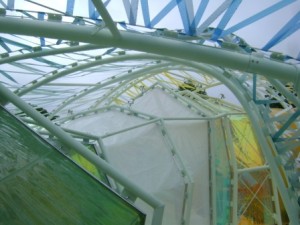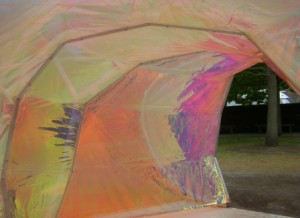 …with some weird interactions with the occupants…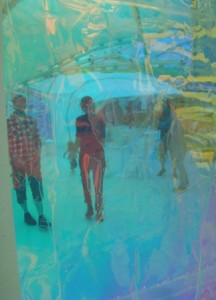 Whilst plastic is not a favourite material of mine, preferring biodegradable and natural, in my opinion this has a definite artistic merit, playing with concepts of secret and journey, as well as encounter and response. Catch it if you can. Free entry (with suggested donation) and on till 18th October, though if you want to take a look at the gallery at the same time, avoid Mondays. Unfortunately, I didn't!