With the Spring Equinox over and daylight stretching out its fingers, it's time to make a journey north to Orkney. This is something I've been meaning to do for around twenty years. In fact, ever since my dear fellow poet and novelist Dorothy Cowlin sang the praises of these Scottish isles and read her Orkney poems at a poetry group I was privileged to attend with her. Indeed there seems to be so much magic and mystery, as well as history, surrounding these isles, it's almost a must for a writer to make the pilgrimage to the old stomping ground of literary giants such as George Mackay Brown and Edwin Muir.
It's a glorious day to take the ferry, and we cast a last glimpse at Gills Bay…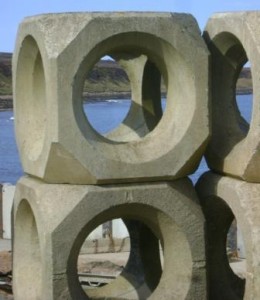 before heading towards St Margaret's Hope, which is actually situated on the isle of South Ronaldsay…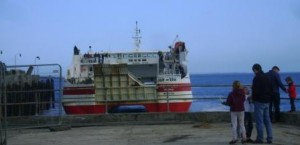 The crossing is superb and quick – good news for any landlubbers – and we enjoy the drive across the Churchill Barriers on to mainland Orkney. So far so good. The landscape is astonishingly beautiful, with our holiday cottage overlooking the Loch of Banks nature reserve, a marshland rich in wildlife, both feathered and somewhat more chloroplast in substance. A great place to watch the sun go down…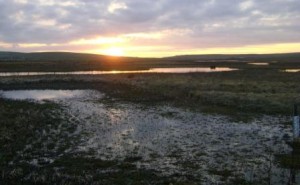 Unfortunately, that seems to be the last we see of the sun for several days, thereafter facing an endurance test of freezing rain and bitter wind…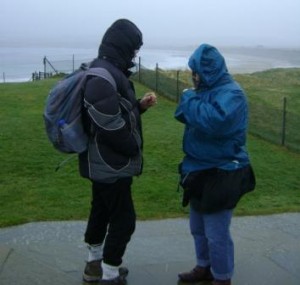 …although the weather does begin to clear as the week unfolds. We're reliably informed that this is a "fine" week. In that case, I guess we should count ourselves lucky!
However, in true Orkney style we don't allow anything as measly as a drop of rain to stop us from doing the touristy exploration thing. Off we go to the fantastic site at Birsay, crossing on to the Brough (island) at low tide…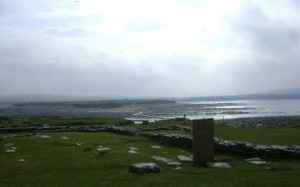 …we wander around the ruins, which are said to date back to the Picts of 600 and 700 A.D., before being taken over by the Norse and the Vikings. There still seems to be some controversy over the church though…ah, small details give rise to big wars…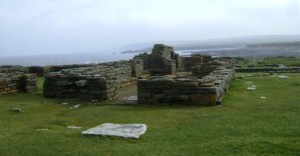 It's lovely that Orkney artist Dawn Mayes painted stones and left them on the beaches of Evie (on the other side of the island) and asked people to enjoy what they found for a few days before giving them a new home. We found this one tucked into a crag at Birsay…a strange bird indeed to lay such an egg!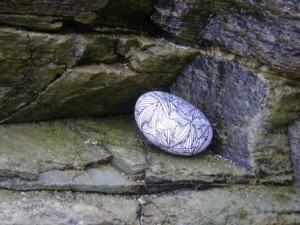 We had time to visit the neolithic Barnhouse settlement overlooking Loch Harray and were treated to a superb talk given by staff from Scottish Heritage. This site is actually a replica (very authentic) as the ruins are so old they have been re-buried for protection.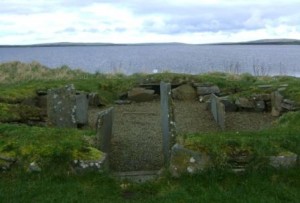 Over the coming days we swallow up Stenness (next to Barnhouse)…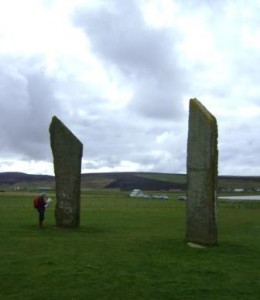 …Maes Howe and Skara Brae…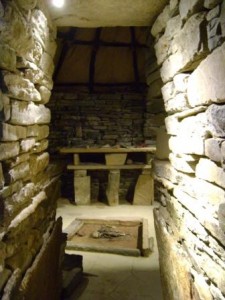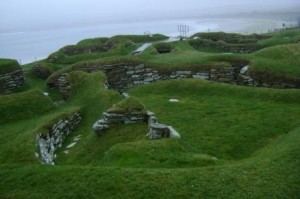 …Skaill House (good on a wet day)…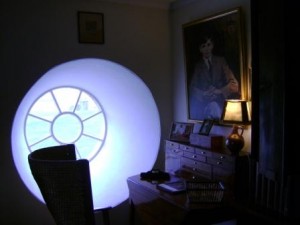 …a random teapot…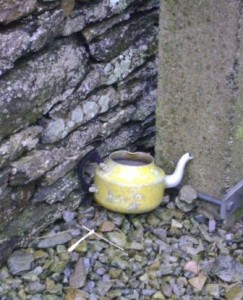 …umpteen rock pools…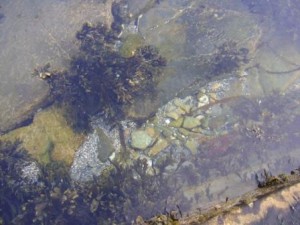 St Magnus Cathedral in Kirkwall…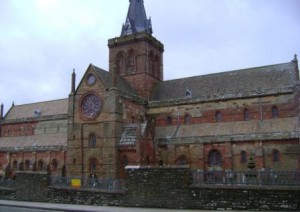 with its crumbling pillars, a testament to the Orkney climate!….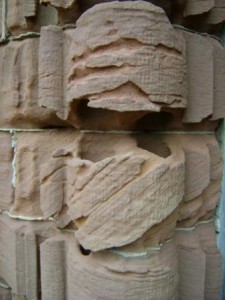 …sandy beaches…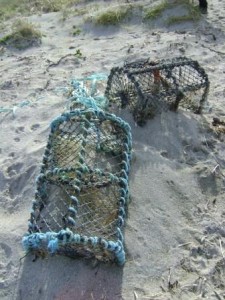 …rocks and wrecks…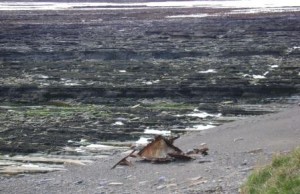 of which there are many – an entire history of naval activity too involved to begin to go into here…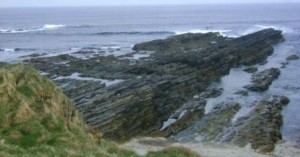 not to mention the Italian Chapel – a Nissan hut painted by Italian prisoners of war, which is a kind of memorial to peace.
Orkney is a place of large expanses of water and wide moody skies…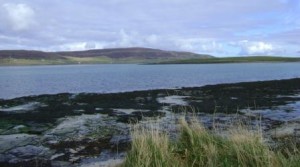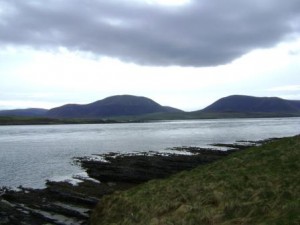 …and beautiful walks of course, with far too much to do to fit into one week. Stromness boasts its own memorial garden for those who prefer a more genteel aspect, dedicated to the former Bard himself (Mackay Brown), …and the Pier Art Gallery, which is a real find in inclement weather.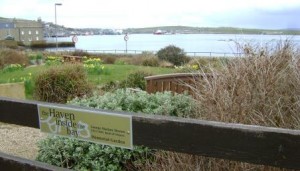 And, of course, there is always the pub. I can recommend Helgi's in Kirkwall for good grub and friendliness, with a slight bent to the Viking in its windows…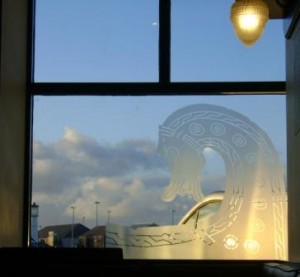 The walk from Warebeth to Stromness is well worth it. You can look over to Hoy, across the sound where the North Atlantic Ocean battles for supremacy with the North Sea…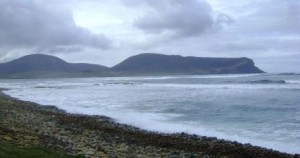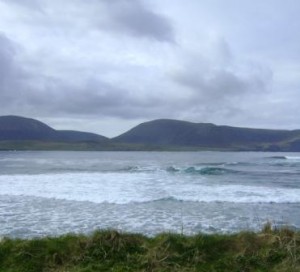 …but perhaps the most haunting place of all is the Ring of Brodgar, this ancient stone circle said to be up to 800 years older than Stonehenge and commanding views in all directions. Fantastic!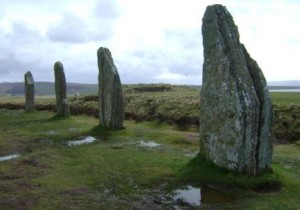 Look, you can even see a ray of sunshine!