Picture this: waking from a dreamlike sleep, the novelist wanders ethereally from her bedroom to switch on her word processor (such a dated term), then drifts down for coffee and a slice of toast before sitting down to three hours effectual and brilliant writing, which will definitely this time result in at least a 30th place on the best-seller list. Got it? Now scrub it.
Instead, you will note that said novelist has been having a run-in with her supplier of peanut butter, who, for the sake of diplomacy and a fear of the British judicial system, shall remain nameless.
Suffice it to say that said novelist, already nursing a literary hangover in which a London publisher has told her that her prose writing is "excellent" but "not for our lists" is now faced with a grocery delivery that is of slightly less use than a sandcastle in the middle of the Sahara desert. You get my drift (sand, not snow).
If the cardboard box had been in the middle and all the items taped to the outside of it the condition of the delivery might not have been much worse. Shampoo is oozing out of the upside bottles, cardboard cartons are torn, the bags of flour are all squished (fortunately covered in strong plastic packaging, so at any rate useable) and worse than that, there is peanut butter everywhere.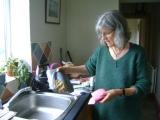 And I mean EVERYWHERE! In fact the more the novelist endeavours to take the contents from the box, the more Everywhere it gets. It's spreading like a flu virus, and there's no vaccine against peanut butter. At least, not as far as she knows.
Of course, the peanut butter tub is fit for the bin, so she cleans up the rest of the "shopping" and puts it away. Then heads for the phone.
"I am not a happy bunny," the novelist tell Customer Service, a nice man with a Geordie accent. And she relates the peanut flu incident. "And another thing," she adds, having vented her wrath in a polite sort of way, you understand, "I am not re-packaging the peanut butter and sending it back to you."
"We'll send a replacement," he agrees humbly.
And the novelist agrees to send pics (ah, the wonders of technology), so that they can look into the matter.
I can tell you, the novelist has done quite enough looking into the peanut butter matter and should really at least try to write a couple of words of her chapter before lunch. Which she does, though she can't now recall if it was two or three.
And then of course it's time to feed that poor overused brain. Somehow, she doesn't fancy peanut butter, but she sits looking at the discarded tub by the sink thinking, "I can't really throw that away, even it is contaminated. It's simply not ethical."
It's then that the novelist has a brainwave. There's a half-packet of a well-known brand facsimile of breakfast cereal – bought for one of her mother's visits and grown stale and damp, sitting in a corner of the work surface. She peers inside, and in fact a spider seems to have made its home in the half-open packaging. She claws the claggy lumps of peanut butter into a bowl and scrunches in the stale cereal, adding a good dollop of water which seems to disappear faster than into a pile of cement powder. With not a little effort she stirs the mixture (not a mean feat) until she has what might turn out to be a perfect feed mix for the local bird population (don't worry – it was no-salt and no-sugar peanut butter, and the cereal was low sugar content).
And finally the novelist goes out to the garden and dollops some of it on to the bird table. Do the birds like it? All she can say is, watch this space. She is. She can just spend hours looking out of the window thinking about peanut butter and watching the birds, instead of getting on with her novel.