We gorge ourselves on the delights of Salamanca, a beautiful city, and truly historic with a range of different architectural styles all within a relatively compact area – buildings made of warm yellow sandstone. For culture-junkies like me it's like being at a buffet for Kings. For starters, there are three cathedrals rolled into one….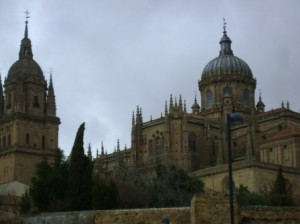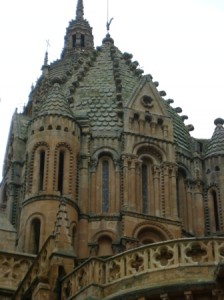 …and a great many small churches….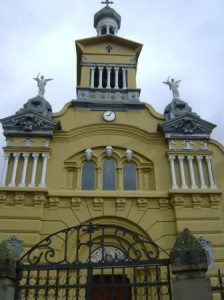 The central dish is the old centre of activities of the Plaza Mayor, where bullfights used to take place, amongst other things…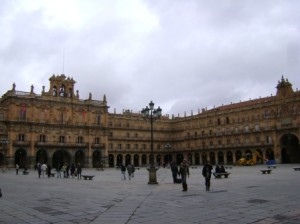 Surrounding this are plates of numerous interest such as the Casa de las Conchas whose walls are carved with shells and is supposedly one of the best examples of Gothic architecture in Spain…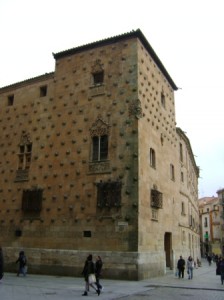 Such a rich spread…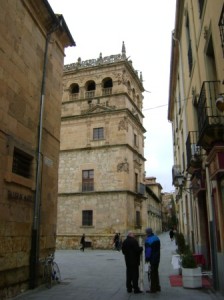 And lots of public art…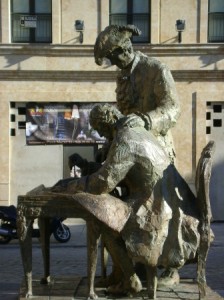 We think this guy was probably Columbus – he came to the university to try to persuade the authorities to back him in his exploratory adventures – unsuccessfully, apparently…
There is an excellent little Museo Art Nouveau y Art Deco housed in a building commissioned by one Don Miguel de Lis, an Art Nouveau enthusiast, and designed by the architect Don Joaquin de Vargas.
Of course, everything is washed down by a cup of coffee – yes, in the sun!