The next day we follow the Green route – only 7.5 km, but it's arduous walking and we're glad we're properly kitted out. To begin with it's pouring with rain, but it's still incredibly beautiful…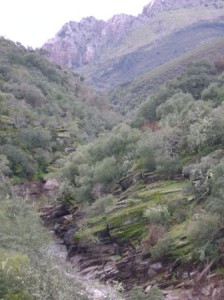 We climb up to the Mirador Cerro Gimio (thought to be the site of a Bronze Age settlement)….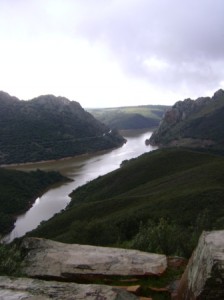 Just as we approach this summit, the rain stops and we are privileged to see three Griffon Vultures perched on the topmost rock outlined against the sky. They're spreading their wings, I presume in order to dry them before taking off. They look like magnificent gods up there; it's no wonder that early people worshipped such as these!
Once we arrive at the top, they are all circling. A Spanish Imperial Eagle has a good look at us, which means I get a good look at him! Fantastic!