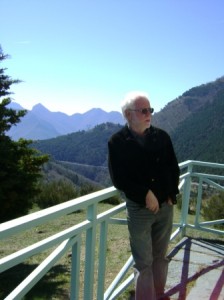 April 4th and we've come full circle – back to Col de Brouis after visiting our friend Neil again. The weather is beginning to smile upon us and we head on to Sospel in brilliant sunshine, find a great campsite  parmi toutes les belles fleurs du printemps…
…though the mountains don't let us forget that there's still a smidgen of winter around…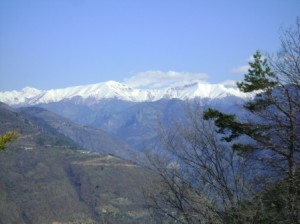 Sospel's a great town: not too busy but with just enough life to make it interesting, and set in a beautiful valley…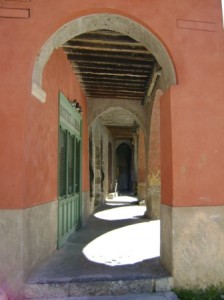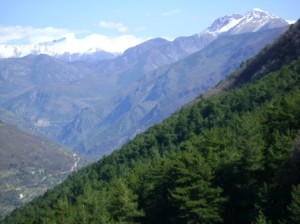 Next stop, pretty little campsite les Blimousins, near Callas, with a super-friendly campsite owner. We say we'll stay one night and end up staying three, mostly due to fabulous walking and a very good locally produced walk booklet. Not sure my calf muscles would agree though – the walk up a mountain track to the Table d'Orientation  at the Col du Bel Homme is a height difference of 424 metres, which when you're not used to it….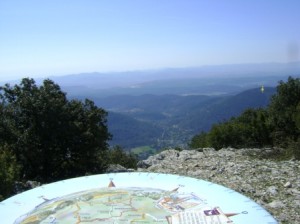 After that, it's on towards Toulon. Even out of season this area is horribly busy, though, taking man out of the equation, the landscape is beautiful. We enjoy something of the Toulon buzz…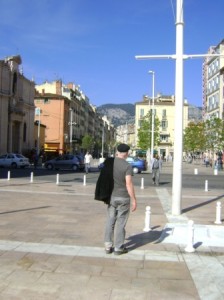 but we can't wait to get on the ferry to Corsica…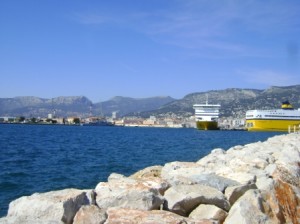 …a steady overnight rumble reminiscent of a snoring husband and we wake up in view of the Corsican mountains, blue and misty in the dawn light.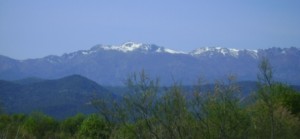 By the time we disembark, Bastia's morning rush hour is in full swing, which means a slow start to the journey south. Not to worry, we've got all day, and "by", as they say in Yorkshire, what a beautiful island this is.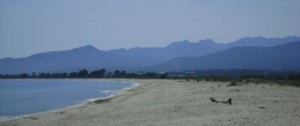 "It's very green," Terry says.
Oops, we should have smelled a rat; apparently they've had a month solid of rain here. Still, the sun's shining now and just look at them thar hills…