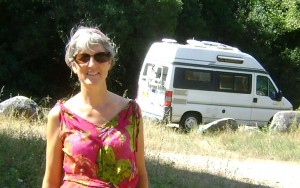 Not too much work today, so head for a much deserved (we think so, anyway!) swim in the sea, followed by a drive up to one of our favourite villages, Prunelli, where we have lunch at the cafe. Cured bacon and melon salad, followed by rabbit and potato dauphinois with assorted veg, all very tasty. The coffee is delivered in a rather unusual manner whereby it lands upside down on the table, much to the embarassment of the cafe owner. Still, no harm done – we agree that he keeps a breed of live cup, and he gives us our next cup of coffee, this time served in the cup, for free. Oh, and by the way, if you're ever passing this way, you must visit the toilet – the view from the window is fabulous!
On the way back down to the plain, we stop by at the river to cool down – wonderful for the feet!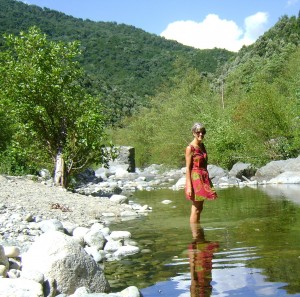 Ghisonaccia town is one of the places to be in the evening of this fête day.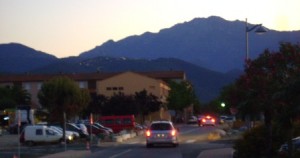 It's a glorified Late Night Shopping with bands on every street corner…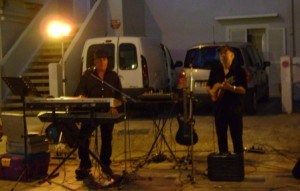 Not bad musicians, in my opinion. Some concerned with their image…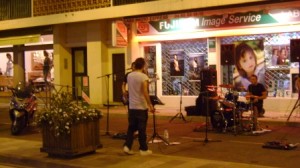 Others hoping the evening won't be a wash-out…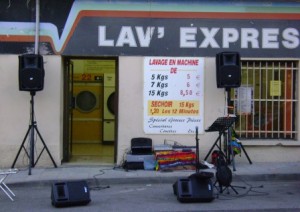 And there's a rather spectacular firework display on the stroke of midnight – or rather not on the stroke of midnight – like everything else in Corsica, it's late, but after a while it happens, and it is worth the wait!