Writers and artists seem to suffer from an insatiable appetite for the mysteries of the sea, as well as many others living in these islands who are simply looking for a sand and sunshine fix. Who, I ask, can rely on the latter, on this north coast? However, there's plenty to enjoy, even in February, given the benefits of a warm coat – this tree trunk, for instance…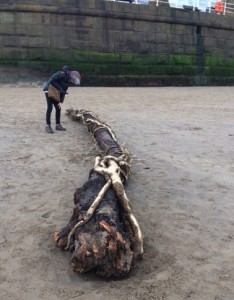 giving rise to the literary musings below…
Tree trunk
Beached on Whitby's tide
a selkie stretches out
the length of a whale
nose to tapered tail, curving,
the arms clutching the self,
this temporary grounding.
Tide will lift and carry her again
slash her against cliffs
bully her back out to sea
a plaything of riptides
like so many, these days.
Right now, she lies like sorrow
abandoned, noosed with coils of ivy
dead as winter.
Yet here, almost brazen,
tell-tale leaves of the predator,
broad, green, and,
even from her own skin
authentic spikes. Pine, I think.
There's no timetable here,
no self-conscious essence of fate,
though a golden bough trails, too,
luring hope,
unconscious of a finite future,
the symbiosis of some forgotten lore
that may survive awhile
before the selkie surrenders to decay.